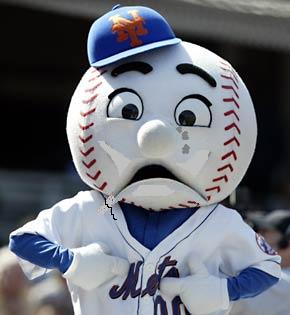 The New York Mets dispatched the Colorado Rockies 4-0 last night, bellied by an impressive performance from pitcher Mike Pelfrey, who went 6.1 innings and struck out five. The win stretches the Mets' streak to four in a row and brings them 10.5 games back of the Phillies for the NL East lead and 5.5 behind in the wild card race. As an avid sports talk show listener I've heard the whole kit and kaboodle from hosts and callers alike. "Minaya is an idiot", "the Mets have no pitching", "the Mets have no hitting", "fire Manuel!", "the Mets are a disgrace", "the farm system sucks", etc. , etc. While there is some validity to these statements, they tend to reveal more about the impulsive and inexpert nature of sports fans than the quality of the players or the team itself.
A 48-51 record for a team with a $150 Million payroll is surely no easy pill to swallow. Mets fans obviously have the right to be upset about the current state of their team, especially amidst a public relations debacle involing General Manager Omar Minaya, VP of player personnel Tony Bernazard, and reporter Adam Rubin. As it stands, the Mets' front office has displayed the professionalism and public relations know-how of
an Alvin Holmes speech
and for that they owe their fans an apology.
With that said, there's very little Omar Minaya, Jerry Manuel, or the current cast of Mets players could have done to avoid such a disappointing first half. The root of New York's problems does not lay with the incompetence of the aforementioned, but rather with the unfortunate injuries to key cogs Jose Reyes, Carlos Delgado, and Carlos Beltran. Reyes is arguably a top three shortstop in all of baseball, while Beltran is the best all-around centerfielder in the game. Delgado, as evidenced by his play in the second half of 2008, is capable of carrying an offense when he gets hot.
Jose Reyes saw his first MLB action in 2003 but really burst on the scene two years later, scoring 99 runs and stealing 60 bases in 2005. In the following seasons he cemented himself as one of the preeminent lead-off men in the game, hitting for a good average and drawing some walks before absolutely terrorizing the basepaths. From 2005-2008, Jose averaged 113R, 13HR, 66RBI, and 65SB a season, good enough for WAR* scores of 2.0, 5.5, 5.1, and 5.9 in each respective year. On top of that Reyes has earned the reputation as an above-average fielder, earning a +8.1 UZR** for his career. Unfortunately for the Mets, Reyes has been out since May 26th with a right calf problem as well as a partially torn hamstring. Using his career WAR scores, we can determine that Reyes' 63 game absence has cost the Mets two full wins in the standings.
The loss of Carlos Beltran hurts just as much. Beltran is a prototypical five-tool player. He can hit for average, he hits for power, he steals bases, he is a glorious center fielder, and he has a strong arm. In essence, he does everything well, so his loss hurts the Mets in a variety of ways. Beltran's carer 162-game average reads as such: 113R, 28HR, 108RBI, 30SB, 283/360/497, truly impressive numbers for an impressive player. Scouts and stats guys alike also recognize Beltran's glove and arm as the best among major league center fielders. Carlos' WAR ratings fluctuate a bit from year to year, however he is typically a +6 win player and would have likely exceeded that this season due to his very hot start. Beltran's absence in 37 of the Mets' 99 games has cost the Mets 1.4 wins this season.
Few first baseman have can claim a career as vaunted and illustrious asCarlos Delgado's. One of the premier power hitters of the last decade, Delgado has 472 career home runs, good enough for 30th on the all-time home run list. While not quite the offensive powerhouse of his early years, Delgado belted 100 home runs in three full seasons with the Mets from '06 through '08. After a slow start in 2008 when many were saying that age finally caught up to the 36-year old slugger, Delgado silenced his critics by hitting .303 and smacking 21 home runs after the All-Star break. With above average offense and adequate fielding for a first baseman, Delgado can be relied upon for +3 wins over a full season at this point in his career. His 72 missed games this season translate to roughly 1.3 lost wins for the New York Mets.
Injuries to Reyes, Beltran, and Delgado have cost the Mets about five games this season. Those five games turn a 48-51 record into 53-46, potentially placing the Mets at the top of the wild card race and only five games behind the Phillies in the NL East (this is not even accounting for the extra losses that would be incurred by the Mets opponents). What's the lesson in all this? Simply put, the New York Mets are suffering mightily because of injuries to three of their best players, not because of the incompetence of management or the remaining players on the team. While bench players and minor league call-ups can do an admirable job in the short-term, they cannot be expected to replace the production of superstars like Reyes, Beltran, and Delgado for a sustained period.
*WAR = Wins Above Replacement Player. A sabermetric statistic that defines how many wins a player adds to a team compared to an average minor league call-up. This rating is determined by batting and fielding statistics and is adjusted for positional scarcity.
**UZR = Ultimate Zone Rating. A sabermetric statistic that measures a players' proficiency in the field by assessing how many runs they save (+) or allow (-) based on their fielding ability. Evaluators watch every ball hit into play and record variables such as speed, trajectory, distance from the fielder, etc. From there evaluators are able to determine what balls should and shouldn't be fielded, allowing them to determine runs saved or allowed for a specific fielder.